This was one of our favorite weddings to create....
Ethan & Elizabeth held their autumn wedding at a private residence in Queensbury, NY that resulted in a timeless, beautiful, and elegant affair. We used antique vessels supplied by the bride's mum to accent gorgeous rectangular vases filled with many local seasonal flowers and greenery. The long, tuscan style tables gave the feel of a casual and festive dinner party set outside on the property close to Elizabeth's childhood home.

Ethan & Elizabeth's wedding incorporated vintage and rustic elements to create a timeless, whimsical, and elegant theme. We used a color palette that consisted of antique rose, blush, and white with pops of burgundy and black, combined with accents of grey and dark greens.
The flowers consisted of Peach Juliette Garden Roses, Antique Hydrangea (local), Blush Ranunculus, Viburnum Berries (local), Dusty Miller (local), Queen Anne's Lace (local), and Dahlias (local) wrapped with an antique rose velvet ribbon. We left the ribbon ends long to create a very romantic feel to the bouquet.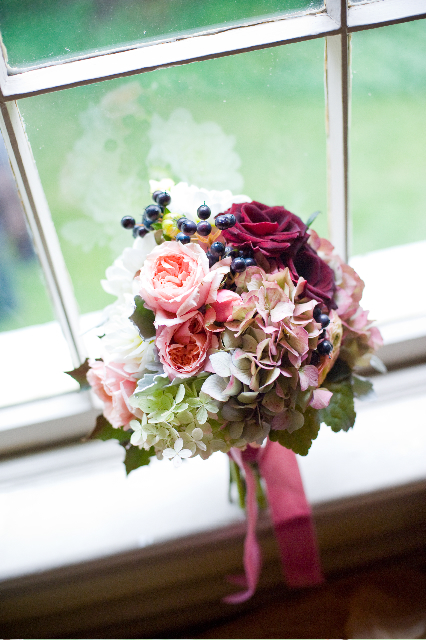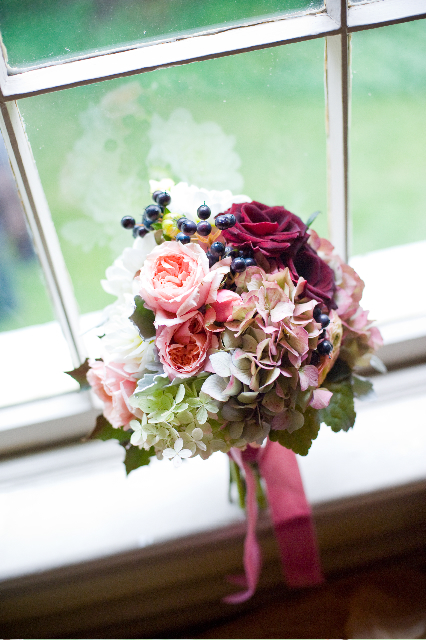 If you would like to learn more about Elizabeth & Ethan's special day, you can read their story in this feature on their wedding in Well Wed Magazine.
*Photos Copyright (c) by Heather Bohm-Tallman and have been used with permission. Please visit her website at http://hbtphoto.com.